The Gade-Marx Treadle Hammer
Last Revised: April 18, 2020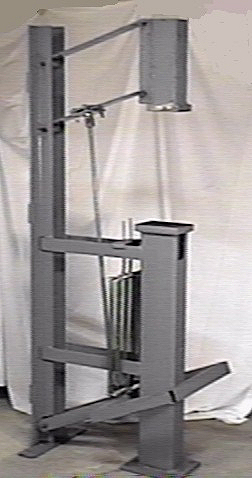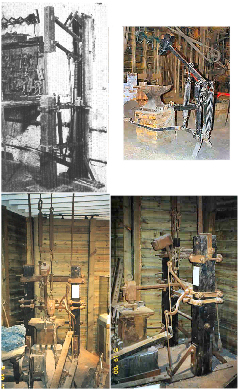 The Gade Marx Treadle Hammer as We Built Them Some other swing arm treadle hammers to Look At
---
French Creek Valley Home
Other, Older Treadle Hammers
Back to Blacksmithing
Upper tool holder info
Contact Us
---
Introduction to Gade Marx Treadle Hammer
A couple of people have asked me what the original ABANA treadle hammer looks like, so I've added this Treadlehammer page to our website. I am a proponent of the original Gade-Marx Treadle Hammer design, which is simple to build and operate, with a minimum of moving parts. I consider it to be Elegant in the simplicity of its design.
This treadle hammer is about 6 feet tall and the hammer head weighs about 65 pounds.
In October of 2014 I produced a youtube video where I try to showcase the Treadle Hammer:

Treadle Hammer Features Video
On behalf of the Guild of Metalsmiths, I sponsored a third build of these treadle hammers in 1997. In this project, we recruited 12 people who wanted to have a treadle hammer, were willing to put out the $200 to $250 that the components cost and were willing to help in the process.
ABANA used to sell the plans (a nice 12 page pamphlet) for $5. Now ABANA only sells plans for a version of it that has been re-designed again and again by Clay Spencer. An earlier redesigned model is quite versatile, but is more complex to construct, has more adjustments to make and may be slightly less safe to operate (in my own personal opinion). The main reason for the redesign was to make it adjustable so that matched upper and lower tooling could be used.
Later, Clay designed an in-line model, which is quite complex, too, compared with the Gade-Marx design.
In my humble opinion, if you KNOW that you need the added complexity, and have the skills, build one of the Spencer designs. Otherwise, build this simpler hammer (which ALSO can handle Matched Upper and Lower Tools)


This 1997 project was the third build of Gade-Marx treadle hammers in which I have been involved. This time we added an adjustable upper tool holder as an accessory for those who want to use matched upper and lower tooling. This simple device attaches to the hammer head with two bolts when needed and is entirely removed from the machine when not in use.
No other parts are added to the hammer and no other adjustments are required to make this accessory work.
Click the "Upper Tool Holder Info" link to learn how to make and use this upper tool holder.
The March, 1997 issue of the Guild of Metalsmiths newsletter contains more detail on this project.
---
In 1993, Clay Spencer published a wonderful article about tooling for the treadle hammer.
The first part is a tutorial on how to use the treadle hammer.
The last part focuses on tooling that you can make and how to use those tools.
Looking at it again in the spring of 2016, I think it is still a great resource and maybe the BEST treadle hammer tooling resource out there.
Clay Spencer Treadle Hammer Tooling and Use article
This version loads quickly.

Or--- if you prefer the PDF format (same content as above):
Clay Spencer Treadle Hammer Tooling Article
Note: This file is 6.56 Megabytes long, so it may take a while to download.
Clay, if you are out there and you want me to take this article down for copyright reasons or whatever, just let me know.
NOTE:
One of the changes we made to all three builds was to have the Head Springs (or, as they are sometimes called) "Swing Arms" rolled and bushed in a spring shop to avoid having to weld spring steel to mild steel and to elminiate the need to drill 1/2" diameter holes 3 inches deep in 1" diameter bars.
As of August of 2019, I have found a new vendor for these rolled Head Springs:
R&R Suspension
Randy Rennacker
612-281-4918.
Circle Pine, Mn.

I have ordered and received 3 sets from him and they are well made.
To order a set for yourself, give him a call and tell him that you want a pair of "Gade-Marx Swing Arm Assy, Mod, Part # 11A".

I chose not to have grease zerks added. I simply oil the pivots from time to time.


There are still plenty of companies that do spring work, but many are not considered "Hot" spring shops anymore.
They send the job of cutting, bending, heat treating and bushing out to other shops.
For instance, there used to be two hot spring shops in the Mpls/St.Paul area, but now that work is sent to some place in Chicago.
If you want to have some made locally, here is the drawing:
JPEG version of Gade-Marx Head Spring Print
I also have that drawing in the DXF and (TurboCad Native Mode) TCW format if you need it. Contact me and I will email it to you.
Here's a picture of the one-piece Head Springs installed on my first treadle hammer: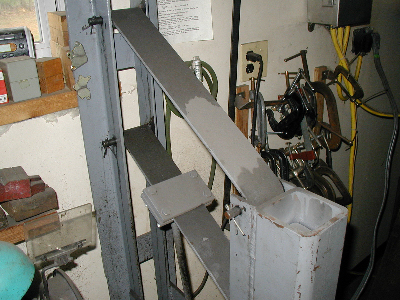 The spring companies can make either a "plain eye", as you see here, or the "berlin eye" where the flat part of the spring is centered on the bushing. We decided that fewer bends is better.
How to Get a Set of Treadle Hammer Plans for Yourself:
If you want to build the "Gade-Marx" Treadle Hammer, you can get a set of plans from me. I'm not in business to make any money on this. Send $6.00 and your mailing address to me at:
Pete Stanaitis
2476 10th Av. W.
Baldwin WI 54002


Or, use Paypal:
For your money you will get a photocopy of the plans and an article written by me that corrects some errors in those plans and suggests some additional accessories. Email me at: spaco@baldwin-telecom.net if you have any questions.