My JXQ-10A Gas Producer Page
Last Revised: November 20, 2012
---
French Creek Valley Home
My Blacksmithing Section
Contact Us
---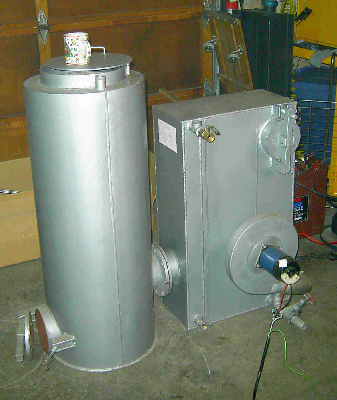 This is my journey in learning more about this Chinese gas producer, the JXQ-10A.
I got one in March of 2009 and had a hard time figuring out how to operate it.
I have the manual that came with it and some additional instructions that were part of the Ebay advertisement, but they are both ambiguous in several places. Since I don't want to break or ruin anything, I hope that others who have already gotten one running will come to my aid with "the truth".
---
Here are links to what I have learned so far, Newest entry first:
Good Results of November 11, 2012 Hot Engine Test with a summary of the season, Including a link to a short youtube video of the test.
June 19, 2012 run of the JXQ-10 with my new datalogger.
The grate plugged up pretty early, so I still have plenty of work to do, but the datalogger performed suberbly.